Event Details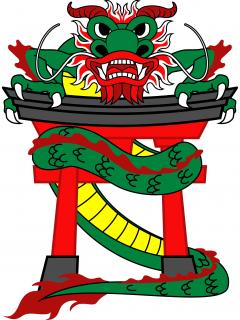 Camp Dragon 2024 See Okinawa Through Scouting Across the Ocean!
24 March - 30 March 2024 Naval Station White Beach
Cost: Youth $425
Adult $275
CAMP DRAGON IS OPEN TO ANY SCOUT OR ADULT LEADER REGISTERED WITH THE BSA!! Be sure to join our Camp Dragon FB Group: www.facebook.com/groups/campdragon/
We are offering a truly unique once-in-a-lifetime camp experience! This will not be a merit badge university but a week of a truly memorable experience that your Scout will never forget! Each scout will be required to select an adventure (that includes merit badges). Individual merit badge classes will not be offered in the traditional format. Adventures will be available for selection on December 23, 2023.
Adventures Offered:
On the Water: A scout choosing to take this adventure will learn about the importance of sea travel to Okinawa's history and how it shaped and continues to shape the islands' identity and history. At the beginning of the week, a scout will introduced to several watercraft, before choosing to specialize in 1 or 2 of them later in the week.
In the Water: The waters around Okinawa present scouts with an opportunity to learn not only about their own limits within the water but also to explore the natural beauty from above. Monday, Tuesday, and Wednesday will see scouts working on identifying their strengths and weaknesses within the water and learning how to improve. This adventure will have an intense focus on safety both in and out of the water. This will culminate on Thursday for a personnel best-effort swim and a snorkeling adventure.
Under the Water: This is the most challenging adventure for our scouts to undertake, but it may be the most rewarding. This SCUBA-based adventure will allow scouts a unique opportunity not found at many camps to explore what lies beneath the waves. Scouts choosing this option will be placed into one of two separate tracks based on preexisting skills and certifications. If a scout has a current scuba certification from an internationally recognized organization, then they will embark on a series of underwater adventures around the island. Those scouts new to scuba will first go through a Discover Scuba course and learn all about this exciting aquatic sport. They will then spend the rest of the week earning their Open Water certification.
Across the Island: Some scouts will realize that there is just as much to see and do out of the water as on, in, or under it. These scouts will take a challenging route through the island's geography and history. Scouts choosing this path will hike to the ancient Katsuren Castle, once home to the great Warlord and traitor Aamawari, and explore its battlements and history. They step back in time to learn about the cataclysmic Battle of Okinawa and its impacts on the people of Okinawa. While also taking trips into the island's deeper past by visiting sites that date back nearly 8,000 years! Scouts will leave camp with stronger legs and a comprehensive understanding of the island's cultural heritage and historical importance.
Troop-Specific Adventure: Troops will be allowed both during the afternoon free period and throughout the day to develop strong knot work, lashing, and pioneering skills. There will always be a Camp Dragon staff member within the Pioneering Station of the program area or willing to come to your campsite for a quick period of instruction. Participating will benefit the troops in several ways: all campsites will be required to have completed a pioneering project by Thursday evening, there will be Knott Ninja challenges for scouts to undertake, and the potential to earn the Pioneering Merit Badge. Troops will be provided a detailed guide to the Pioneering Adventure upon check-in. This will include information on safety, requirements, and acquisition of supplies.
Friday March 29, 2024 Is Explore Okinawa Day a variety of Okinawan Tours will be offered some are included in the cost of Camp, some will be an additional charge Tour signups will start on December 23, 2024. Here are some of the Tours that will be offered:
Ocean Expo Park Aquarium
Okinawa World Habu Museum
Okinawa Battle Sights Tour /Japanese Navy Underground
Beach Day at ANA Intercontinental Hotel Includes Ocean Park and Lunch
Hiking the Yonbaru Forrest
Forrest Adventure Park Ziplining
If arriving from Naha Airport, please make a note in your registration comments. A Scout representative will be there to greet you. Bus transportation to and from Naha Airport will be provided. Please plan your arrival, and there will be two shuttles offered, one at 1200 and one at 1600. Departing from White Beach on Saturday, the shuttle will leave at 1100. Please plan your return flight accordingly.
Camp Dragon will be held on an active-duty military installation. Any Non-DoD-ID card holder will need base access and must upload the photo page of their passport for submittal to White Beach Security for screening and access during camp. This must be done no later than 15 FEB 2024 to ensure proper vetting and background checks.
All Non-DOD participants must have the attached spreadsheet submitted to Sara Ramos @ sara.ramos@scouting.org plus all required paperwork No later than February 1, 2024 for base access.
FINAL PAYMENT DUE March 09, 2024, at 11:59 PM! The final Payment for the Under the Water Adventure will be on January 15, 2024. All Scuba students must complete the Padi online course prior to their arrival at Camp, any Scout who shows up to Camp without the required completed course will be disenrolled in the Under the Water Adventure, and no refund will be given.
Showers/toilets will be available at Camp and Adult Leaders will have access to campers for showers, sleeping and storage.
Trading Post will be available during the Camp. For all of your camping needs.
O/A Members BRING YOUR SASHES for OA Day on March 27th!!
Camping Equipment Tents, Sleeping Bag, Cots are not included in Camp Registration Fee. You will be required to bring your own camping gear.
Camping Gear Will be available to rent or purchase more information to follow!
FEC Adventure Packs that include A FEC Day Pack, A FEC Boonie Cover, Mess Kit, Camp Chair, and Headlamp will be available for prepurchase on January 1, 2024.
All Adult Campers Must Be a Registered Adult Leader with the BSA. All campers must sibmit
BSA Medical ABC Form (must be completed by all attendees)
Activites Form (must be completed by all attendees)
Adult Leaders: Please print out the attached TDY/TAD No Cost Letter to possibly get approved TDY/TAD!!!
Youth / Adult Staff: Submit the "All Camps Staff Application" for 2024, located in the "general info" section on the resident camp page Council Resident Camps (fareastcouncil.org).
When & Where
Camp DragonWhite Beach Naval Base Camp Grounds
Sunday 03-24-2024 3:00 PM JST to
Saturday 03-30-2024 9:00 AM JST