Spring Canoe Camporee 2023
Event Details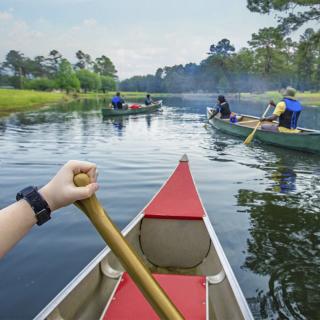 SRAC SPRING CAMPOREE
Save the Date for the 2024 event! Please see below for 2023 information.
GARLAND GRICE MEMORIAL / SPRING CREEK CANOE WEEKEND
May 3-5, 2024
Don't miss out on this great event that will showcase your Troop's ability to compete in events such as: Canoe Race, Fire Starting, Lashing, Knot Tying, and more!
Garland Grice was a dedicated Scouter, who exemplified the Scout Law and Oath in all aspects of his life. He served as an Assistant Scoutmaster for Troop 711 and was Post Adviser for Explorer Post 711. In 1990, he started Troop 700 and served as Scoutmaster until his death.
He was in charge of this camporee for many years and for that reason we run it in his memory.
General Information
LOCATION: Brinson, GA—GPS coordinates 30.9823,-84.7387 (input directly to google maps)
COST: $15.00 per Scout, $10.00 per Adult
EQUIPMENT
- Canoes and paddles for racers
- PFDS
- 3 10-12 foot spars for lashing
- Rope for lashing and 2 30' guy lines
- Water, firewood, and fire pit
EQUIPMENT NOT ALLOWED
Drugs or Alcohol
Firearms or non-folding knives
Electrical devices or electronic games
Artificial noise makers or fireworks
RESTROOMS
Porta-potties will be available
Each troop is responsible to bring all necessary paperwork (permission slips, heath forms)

• Safety is our number one concern. All safety rules must be followed at all times.
All participants in canoe race must have the swimming merit badge
Personal floatation devices must be worn at all times when on the water
If axe s or saws are in use, it must be in an "ax yard" with totin chip displayed
Cold food products must have ice and stored safely
First aid kit in each patrol site
Campsite inspections will take place on Saturday afternoon
Participants in canoe race will be grouped by age. (11 13), (14 16), (17 18). If canoe has boys
of different ages together, they will be assigned to the oldest class. i.e: a 12 year old and 15
year old are in canoe together, they will race in t he 14 16 year old division
Race is approximately 12 miles. Taking 2 to 3 hours to complete. It is a timed event so each
canoe will have start time and end time recorded.
Other activities will be: fire building (string burning), flap jack cooking, and more. In all of the competitions we are
looking for patrol method, patrol teamwork and basic scouting skill knowledge.
Trash must be carried out by Troop
No cutting of live trees. Site is an active Pecan Orchid and very valuable. Bring in fire wood.
Follow fire safety rules
Parents or guest are welcome but must be registered with camporee chief
Each Troop is asked to have one or two safety boats on the water when the race begins.
The Safety Officer will assign areas of the creek to patrol. When the last racer passes the safety boat can follow them on
down the creek. These can be motorized boats, canoes or kayaks. The same rules apply to safety
LOCATION: Brinson, GA—GPS coordinates 30.9823,-84.7387 (input directly to google maps)
When & Where
Save the Date Spring Creek
Friday 05-03-2024 3:00 PM ET to
Sunday 05-05-2024 12:00 PM ET