Event Details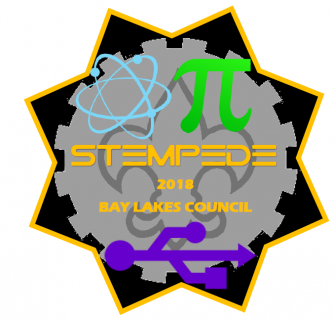 What is STEMpede?
Scouts, guided by dedicated leaders and Merit Badge Counselors, will see how; science, math, and physics make projectiles shoot into space, how we impact nature, and explore the wonder of space. STEMpede features Scouting program activities incorporating STEM learning with cool Scouting activities.
All Bears, Webelos, Scouts BSA, Sea Scouts, and Venturers are welcome to sign-up for a weekend full of STEM merit badges, Nova Awards, STEM activities, and adventure pins. These STEM activities and Merit Badge opportunities will take place Saturday while the Program Directors have Friday night through Sunday morning packed with many more STEM events. Webelos and Bears must have an adult on property with them all weekend.
Guest appearances by Trebuchets, Catapults, Cannons, Rockets, Airplanes, Bridges, Towers, Boats and many more! Many Scouts will have the chance to build a trebuchet and launch at a target, be challenged by code breaking or bridge building, or be able to start fires by unconventional means.The Scouts will have the opportunity to get their hands on multiple STEM activities and learn the hows and whys of each of them.
When & Where
Save the Date Bear Paw Scout Camp
Friday 10-04-2019 4:00 PM CT to
Sunday 10-06-2019 12:00 PM CT