Staff Training Program 2023
Event Details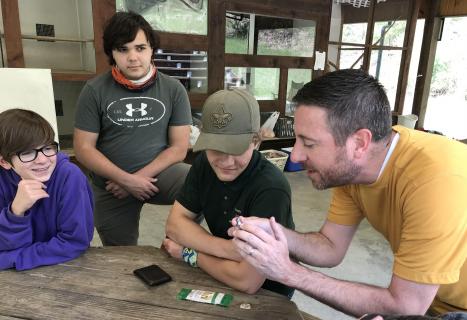 Staff Training Program (STP) is a two-week residential training program at Camp Powhatan for 14- and 15-year-olds to get a taste of life on camp staff. The goal of STP is to train scouts to be prepared to serve on summer camp staff, and to teach them core lessons for being good employees for life. STP participants live at camp, shadow full-time camp staff, and participate in workshops on emergency preparedness and safety, camp culture, merit badge instruction, and job skills. They will work directly with campers under the supervision of program area directors. A dedicated Staff Training Program director will supervise the STP experience.
STP participants will be part of two weeks of the summer camp season. They may leave camp between noon on Saturday and noon on Sunday. There will be no program during this period.
Benefits
Guaranteed staff interview for the next summer camp and beyond with successful completion of program, interview, and clean work record
Earn two merit badges
Receive leadership, soft skills, and employment training
Earn work experience and future job referrals
Build a network of future camp staff
Participants must
Be a registered member of a Scouting Unit
Be 14 years old by June 1
Be interested in serving on camp staff in future years
Have a completed medical form (parts A, B, and C) with physician's signature
What to bring:
Current BSA medical signed by physician and completed Home Prescreening form
Copy of family insurance card
Medications
Class A uniform(s)
Class B t-shirts
Socks, underwear, etc.
Toiletries
Boots for hiking
Sleeping bag/gear
Daypack
Sunscreen
Rain gear
Water bottle
Insect repellant
Flashlight and extra batteries
Personal first aid kit
Pen or pencil and Sharpie
Pocketknife
In an effort to minimize illness at camp, we ask that you and your Scout do a daily health screen for 7 days before your session starts. The camp session starts best with healthy Scouts, with good health that begins at home. You must bring completed BRSR Home Prescreening Form on Opening Day each week for each person attending.
When & Where
Powhatan STPCamp Powhatan
Sunday 07-09-2023 1:00 PM ET to
Saturday 07-22-2023 10:00 AM ET
Past