Event Details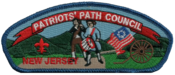 Announcement/Signup, limit 30 players:
Patriots' Path Council Chess Club's First Annual Chess Tournament
Saturday, 4/29, from 10:30am to 3:00pm, cost $15.00
There will be a pizza lunch after the first two rounds for participants. Trophies will be awarded for the top three finishers.
All equipment will be provided and instructions on chess clocks will be given. Each player will be given 20 minutes on the chess clock so the maximum time a game could take is 40 minutes. These are unrated chess games. You can expect your chess player to play three to five games of chess on that Saturday in the tournament, depending on the number of players. Chess notation is not required for the tournament.
The tournament will be at the:
Florham Park Library
107 Ridgedale Ave
Florham Park, NJ 07921
Questions: Tom Andrea, (973) 224-1395, ppccc.ta@gmail.com
When & Where
Patriots' Path Council Service Center
Saturday 10-01-2022 9:30 AM ET to 12:00 PM ET
Past
---
December MeetingPequannock Senior House
Saturday 12-17-2022 2:00 PM ET to 4:30 PM ET
Past
---
2/25/2023Florham Park Library
Saturday 02-25-2023 12:30 PM ET to 3:00 PM ET
Past
---
Patriots' Path Council Chess Club's First Annual Chess TournamentFlorham Park Library
Saturday 04-29-2023 10:30 AM ET to 3:00 PM ET
Past