2023 Spring Rock Climbing and Rappelling Instructor Training
Event Details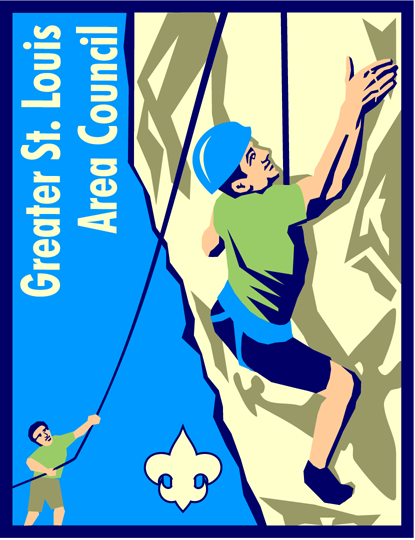 No Registration Needed


2023 Rock Climbing and Rappelling Instructor Training
The Wednesday night and weekend training course is required to become a Qualified Rock Climbing/Rappelling Instructor for the Greater St. Louis Area Council sites. You will receive site specific training for the natural climbing areas at S Bar F Ranch, and for the climbing towers at Beaumont, Camp Lewallen, and Camp Warren Levis. Climbing training qualifies you to take your unit climbing at our council's climbing program sites and to lead rappelling on the Beaumont Tower (Scouts BSA or Venturing only, Cub Scouts are not permitted to rappel). S bar F Scout Ranch has permanent anchors installed for climbing and rappelling.
If you can't make the Wednesday evening training session you will still be able to take the weekend training, but you must call the Climbing Training Course Director. That Wednesday, everyone will receive knot training, a detailed equipment list, and training about equipment and what to bring for weekend training and the Saturday camp at the climbing area.
Training Dates:
Spring Session - Wednesday Night Meeting
Beaumont Scout Reservation
Wednesday 05-24-2023 7:00 PM CT to 9:00 PM CT
AND
Spring Session - Weekend Outdoor Training
S-F Scout Ranch
Saturday 06-03-2023 7:45 AM CT to Sunday 06-04-2023 4:00 PM CT
NOTE: By signing up for the Wednesday night meeting you will automatically be signed up for the Weekend Outdoor Training as well.
For more information please check out the attachment on each registration.
Late Sign-ups: the on-line registration system does not allow registrations starting the date of the Wed. night meeting. If you want to sign up for the training course after that date please contact the Training Director below. They will be able to give you the needed information.
Questions? Contact Jason Dill, Greater St. Louis Area Council Climbing Training Course Director 314-494-3325 gslac.climbing.director@gmail.com
When & Where
Spring Session - Weekend Outdoor TrainingS-F Scout Ranch
Saturday 06-03-2023 7:45 AM CT to
Sunday 06-04-2023 4:00 PM CT
---
Spring Session - Wednesday Night MeetingBeaumont Scout Reservation
Wednesday 05-24-2023 7:00 PM CT to 9:00 PM CT
Past