2021 Personal Fitness Merit Badge Virtual
Event Details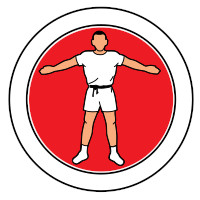 Personal Fitness Merit Badge
The Personal Fitness Merit Badge will take place via a Zoom meeting over a 4 day course from April 26 to April 29, The 7:00pm to 7:45pm sessions are full, however a 6:00pm to 6:45pm session has been added.
To be well prepared for the meeting, please read over the Personal Fitness merit badge requirements and complete the following in advance:
1. Please read over and complete requirement #3 with your parents. Your parents may reply via email to state that this requirement is completed after the Zoom session.
2. Please have your parents report that you have completed requirement #1 by having a current BSA health form and being current with dental visits. A Scout is trustworthy so we do not want to receive a copy of either of the above health reports, your word will do.
3. Requirements 6, 7, and 8 cannot be completed in class. You can do these as a pre-requisites. If not complete by class time a partial will be issued and you can continue to work with the instructor for completion.
Scouts should plan to have their videos on for the duration of the session so that Counselors can ensure their participation and engagement. Counselors have the discretion to determine if a Scout completed the requirements based on their engagement during the session
Cost: $5.00
When & Where
Class 6:00pm
Online Merit Badge Class
Monday 04-26-2021 6:00 PM CT to
Thursday 04-29-2021 6:45 PM CT

---
Class 7:00pm
Online Merit Badge Class
Monday 04-26-2021 7:00 PM CT to
Thursday 04-29-2021 7:45 PM CT