Event Details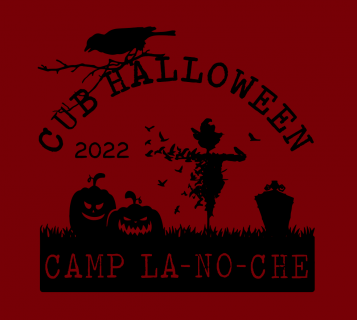 Cub Halloween is THE Cub Scout Event of the Year - Every Year!
It's a SPOOKY good time for the Entire Family!
October 7-9, 14-16, 21-23 & 28-30
Space is LIMITED so REGISTER EARLY!
Join us at Camp La-No-Che for THE Cub Scout event of the year! Daytime FUN includes a variety of activities from games, crafts, STEM Fun, Shooting Sports, Pumpkin Carving (bring your own or pre-purchase), Hay Rides and more!
As the sun goes down and darkness falls, Camp La-No-Che Ghosts and Ghouls take their turn to play with you! So, put on your favorite ghoulish costume and take a "stroll" down the Haunted Trail, dare to travel through the La-No-Che Cemetery to the Haunted House. Then stop by the Ecology Lodge to feel what lurkes in the Mystery Boxes - IF YOU DARE! Looking for something a little less spooky? Then come to the Coucill Ring Show and/or the Dance Party. Lastly, head back to your "resting place" to do a little TRICK OR TREATING from campsite to campsite!
Earn Special Competition Ribbons for Campsite Decoration & Pumpkin Carving
***New in 2022 - Please See the Cub Scout Parent/Leaders Guide for more information and be sure to share with your group***
Don't forget to pre-order your Glow in the Dark Event T-shirt during the registration process at a discounted price (must be ordered at least 3 weeks before the weekend you are attending). If not pre-ordered, there will be a limited supply available in the Trading Post at a higher price.
Please remember: pets, alcohol and firearms are not permitted on camp property.
When & Where
Cub Halloween #1Camp La-No-Che
Friday 10-07-2022 4:00 PM ET to
Sunday 10-09-2022 10:30 AM ET
---
Cub Halloween #2Camp La-No-Che
Friday 10-14-2022 4:00 PM ET to
Sunday 10-16-2022 10:30 AM ET
---
Cub Halloween #3Camp La-No-Che
Friday 10-21-2022 4:00 PM ET to
Sunday 10-23-2022 10:30 AM ET
---
Cub Halloween #4Camp La-No-Che
Friday 10-28-2022 4:00 PM ET to
Sunday 10-30-2022 10:30 AM ET