Event Details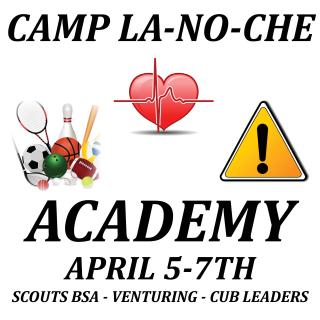 PROGRAM GUIDE POSTED FOR VIEWING
REGISTRATION IS OPEN!
---
CAMP LA-NO-CHE ACADEMY
Take part in our NEW annual event featuring programs and events incorporating sports, health, safety and training! This new event will combine what was formally, "Safety/Summit Weekend" into a program for Scouts BSA, Venturers, Adult Leaders, and La-No-Che Seasonal Staff Applicants. This program will allow these groups to come together and participate in training, learning, fellowship, and fun!
---
DATE:
April 5-7th
Check-in occurs 5-8PM on Friday, April 5th
Welcome session held at 8:30PM on Friday, April 5th
Experience begins at 8:30AM on Saturday, April 6th
Experience concludes at 10:00AM on Sunday, April 7th
---
PROGRAM DETAILS:
The Camp La-No-Che Academy offers several merit badge programs and training during this action packed weekend. Many of the training programs are for both youth and adults, while merit badges are of course for the youth. They include:
Aquatic Supervision
Life Guard Certification (RED CROSS & BSA)
COPE LEVEL I
Cub Scout Shooting Sports
Wilderness First Aid
Merit Badge Programs

Athletics MB/Sports
First Aid
Emergency Preparedness
Personal Fitness
Swimming
---
REGISTRATION COST:
(UNIT COOKING IS ALSO AN OPTION FOR THOSE PARTICIPANTS WHO WOULD LIKE TO SELECT)
---
RESERVE YOUR CAMPSITE NOW:

Pay a Unit deposit of $100 to guarantee your campsite preference (payment goes towards final unit total).
---
REFUNDS:
All deposits paid, either for campsite or participant are non-refundable deposits. To request a refund of other monies paid, you must submit a refund request form and meet the criteria listed in order to receive a potential refund. To review our complete Cancellation and Refund Policy, or to submit a Cancellation Request, please visit:
---
HEALTH & SAFETY:
The health and safety of our Scouting family will always be our top priority and Camp La-No-Che is prepared to provide a safe, fun environment for your Scouts. Our team has worked with multiple Council Committees to provide guidelines aimed at keeping everyone in attendance safe and healthy. Please be sure to review the Leader and Parent Guide for additional information, as well as the Program Guide when posted for programs and activities.
---
Here's your ticket to Adventure! Share it with your fellow parents, leaders, and Scouts, and let us know if there is anything we can do for you!
When & Where
Aquatics Supervision TrainingCamp La-No-Che
Friday 04-05-2024 6:00 PM ET to
Sunday 04-07-2024 12:00 PM ET
---
Lifeguard Certification: Red Cross/BSACamp La-No-Che
Friday 04-05-2024 6:00 PM ET to
Sunday 04-07-2024 5:00 PM ET
---
Wilderness First Aid TrainingCamp La-No-Che
Friday 04-05-2024 6:00 PM ET to
Sunday 04-07-2024 5:00 PM ET
---
C.O.P.E. Level 1 TrainingCamp La-No-Che
Friday 04-05-2024 8:00 PM ET to
Sunday 04-07-2024 5:00 PM ET
---
Cub Scout Shooting Sports TrainingCamp La-No-Che
Saturday 04-06-2024
9:00 AM ET to 2:00 PM ET
---
Merit Badge(s)Camp La-No-Che
Saturday 04-06-2024 8:00 PM ET to
Sunday 04-07-2024 10:00 AM ET