2020 Jack Nicol Cub Scout Summer Resident Camp
Event Details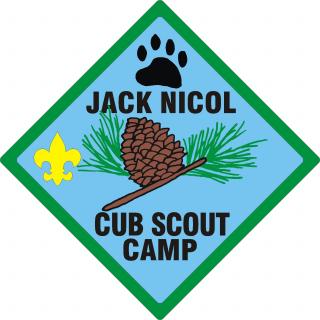 Nicol Summer Camp Schedule
2020 Summer Camp Schedule
Arrow of Light Camp is for Webelos (only, no siblings) going into the fifth grade who have completed one year in the Webelos program and their parents and/or leaders.
The Family Camps are for all ages and genders. Bring the whole family to camp and have a great family get-away! Youth ages 5-17 will participate in all of the camp programs and activities. Youth 4 and under are free and are the responsibility of and under the guidance of their parents. Anyone 18 and older is an adult at camp.
New In 2019, all youth registrations placed and paid for by May 15 will receive a free Camp Nicol T-shirt! You will need to be sure to add each youth's shirt size on their profile when you register them for camp. The shirts will be distributed when you check-in at camp!
Payments
Payments can be made online via credit card. Payments may also be made by Unit Account by contacting Jennifer 970-584-2202, Jennifer.Ball@Scouting.Org or by mailing a check to the Scout Office.
Longs Peak Council Po Box 1166 Greeley Co 80632
When & Where
Arrow Of Light Session 1Jack Nicol Cub Scout Family Camp
Friday 06-19-2020 2:00 PM MT to
Monday 06-22-2020 11:00 AM MT
Past
---
Family Camp Wk 1Jack Nicol Cub Scout Family Camp
Thursday 06-25-2020 2:00 PM MT to
Saturday 06-27-2020 11:00 AM MT
Past
---
Family Camp Wk 2Jack Nicol Cub Scout Family Camp
Sunday 06-28-2020 2:00 PM MT to
Tuesday 06-30-2020 11:00 AM MT
Past
---
Family Camp Wk 3Jack Nicol Cub Scout Family Camp
Sunday 07-05-2020 2:00 PM MT to
Tuesday 07-07-2020 11:00 AM MT
Past
---
Family Camp WK 4Jack Nicol Cub Scout Family Camp
Thursday 07-09-2020 2:00 PM MT to
Saturday 07-11-2020 11:00 AM MT
Past
---
Family Camp Wk 5Jack Nicol Cub Scout Family Camp
Sunday 07-12-2020 2:00 PM MT to
Tuesday 07-14-2020 11:00 AM MT
Past
---
Arrow Of Light Session 2Jack Nicol Cub Scout Family Camp
Friday 07-17-2020 2:00 PM MT to
Monday 07-20-2020 11:00 AM MT
Past
---
Family Camp Wk 6Jack Nicol Cub Scout Family Camp
Thursday 07-23-2020 2:00 PM MT to
Saturday 07-25-2020 11:00 AM MT
Past