2023 Camp Big Horn at Circle X Ranch Scouts BSA Summer Resident Camp
Event Details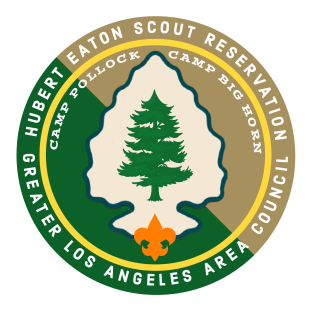 This magnificent camp is located near Lake Arrowhead at over 5,000 feet of elevation and over 2,000 acres of pristine forest in the San Bernardino Mountains. Hubert Eaton Scout Reservation provides a premier destination for Scouts of all ages.
Camp Bighorn at Circle X Ranch is the Reservation's home to our Scouts BSA Summer Resident Camp Program. This camp offers comfortable accommodations on our highly sought-after tent camp decks and a wide variety of activities for Scouts.
Programs include shooting sports venues, a swimming pool, craft and nature programs, horseback riding, a climbing wall, a high ropes COPE course, an astronomy program, and the new 1,100 foot Zip Line spanning our entire canyon; give it a try! Sign your Troop up early to experience everything this camp has to offer.
When & Where
Session 01Hubert Eaton Scout Reservation
Sunday 06-11-2023 12:00 AM PT to
Saturday 06-17-2023 11:59 PM PT
Past
---
Session 02Hubert Eaton Scout Reservation
Sunday 06-18-2023 12:00 AM PT to
Saturday 06-24-2023 11:59 PM PT
Past
---
Session 03Hubert Eaton Scout Reservation
Sunday 06-25-2023 12:00 AM PT to
Saturday 07-01-2023 11:59 PM PT
Past
---
Session 04Hubert Eaton Scout Reservation
Sunday 07-02-2023 12:00 AM PT to
Saturday 07-08-2023 11:59 PM PT
Past
---
Session 05Hubert Eaton Scout Reservation
Sunday 07-09-2023 12:00 AM PT to
Saturday 07-15-2023 11:59 PM PT
Past
---
Session 06Hubert Eaton Scout Reservation
Sunday 07-16-2023 12:00 AM PT to
Saturday 07-22-2023 11:59 PM PT
Past
---
Session 07Hubert Eaton Scout Reservation
Sunday 07-23-2023 12:00 AM PT to
Saturday 07-29-2023 11:59 PM PT
Past
---
Session 08Hubert Eaton Scout Reservation
Sunday 07-30-2023 12:00 AM PT to
Saturday 08-05-2023 11:59 PM PT
Past